Holmwood School have a new Nursery spaces still available!

OPEN HOUSE TUESDAY 10th OCTOBER 9.15am & THURSDAY 30th NOVEMBER 9.15am
Welcome to Holmwood School
Mrs Claire Sharples - Executive Headteacher
I would like to welcome you and your family to Holmwood School.
I am extremely proud to be the Headteacher of Holmwood School, with all it has to offer. Every member of the team believes in our motto "Bringing out the best in everyone". .......Read More
Assessment Announcement 2017
Holmwood have their end of year data 2017 in and it looks GREAT!

More children at Holmwood reached GLD (Good Level of Development) at the end of Foundation Stage than ever before

Year One Phonics results are higher than national results were last year

End of Key Stage One results in reading, writing and maths are all higher than national results 2016

Well done to all the children, staff and parents who have worked together to achieve so much

Holmwood pupils have a great attitude to learning and love achieving
ATTENDANCE: This weeks whole school attendance was 97.3%.................Butterflies had the highest attendance this week with 99%

Latest School Events, Friends of Holmwood Events
Welcome to Yr1 parents

28

Sep

2017

9:00 am - 9:30 am @ School Hall
Welcome to nursery parents

29

Sep

2017

10:30 am - 17 oct, 11:30 am @ ICT suite / Nursery
Black History Month

01

Oct

2017
Owl Time visit

03

Oct

2017
Welcome to Yr2 parents

05

Oct

2017

9:00 am - 9:30 am
Out of schools assembly

05

Oct

2017

10:20 am - 10:40 am
World Smile Day

06

Oct

2017
Open House

10

Oct

2017

9:15 am - 10:15 am
Harvest Assembly

11

Oct

2017

10:20 am - 10:40 am
Individual & Family Photos

13

Oct

2017

8:30 am - 9:30 am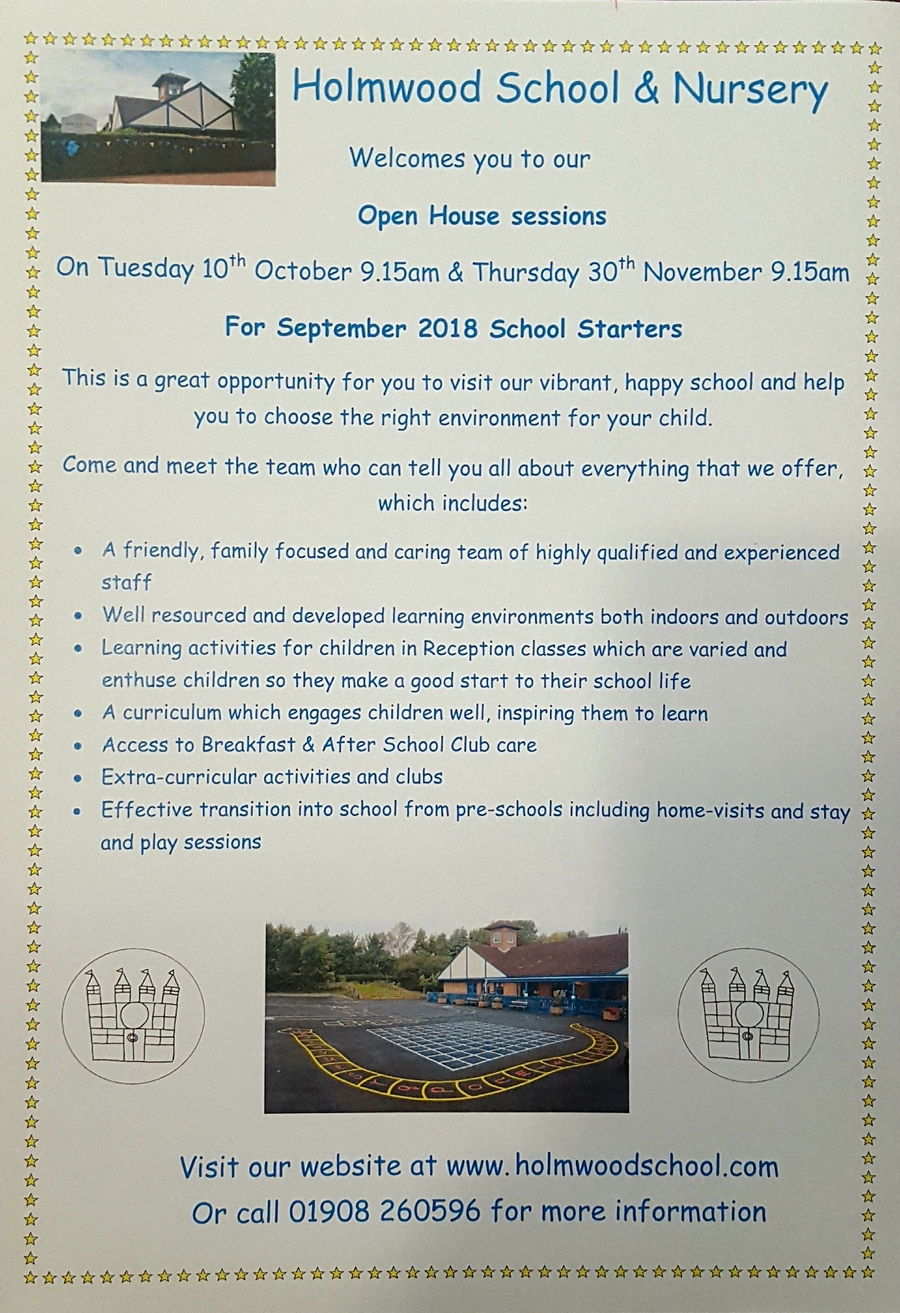 Holmwood School & Nursery Open Day
Holmwood School & Nursery News
On Tuesday 10th October 9.15am & Thursday 30th November 9.15am For September 2018 School Starters

We are currently advertising for a Midday Supervisor & a Reception Teacher for Maternity cover. If you are interested please take a look at the Job vacancies section of our website which can be found under the About Us tab
News Page »
Holmwood School have a new Nursery, spaces still available!

Holmwood School & Nursery - Where to find us